The fastest personalised cycling gear that there is for your team
So much more than personalised cycling jerseys
Castelli Servizio Corse is Castelli's personalised clothing division (Castelli Custom). This service gives your the chance to wear the same clothes as professional cyclists with the same fabrics and components, the same fit and design, made by the same people that you see in the WorldTour races.
Fill in the form to receive more information or to request a no obligation quote.
HOW DOES CASTELLI CUSTOM WORK?
Get your hands on the cycling gear worn by the professionals
Choose the items you want to personalise
We have a wide range of items for cyclists and triathletes for men and women: shorts, jerseys, jackets, waistcoats, accessories...

Once you've chosen the items, decide on how many units of each size you need for each item. We have a sampler that you can use to help you to get to know the items and check the sizing.
*Minimum order of 10 items.
Tell us about your design idea. Our templates will be very useful to you for sending us your sketches. We will also need the logos that you are going to include in the design (in vectorial format ".eps", "ai" or "editable pdf"), as well as the colours that we will use to personalise your items.
Our design team will capture your initial design and convey it on a 3D design proposal so that you can check all the details of your future kit and tell us about any adjustments you may need to make.
Once we receive your approval on the final design, the total number of units and sizes for each style and the down payment, production will begin and it will take 9 weeks from the date that the project was approved. When your items are ready, we will send your order to the address you have given us.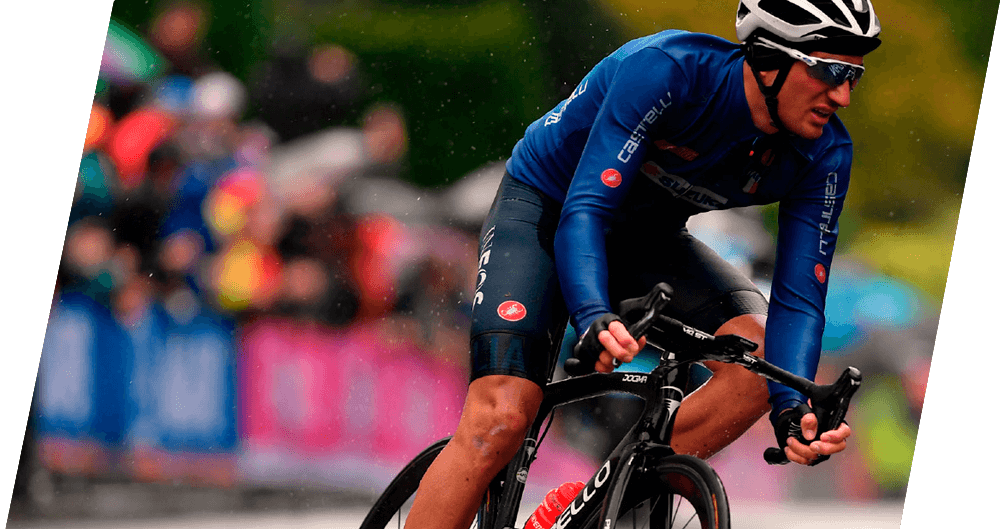 Castelli Gabba: your bespoke icon
What could be more professional than your team competing in Gabba? Now you can personalise this item with GORE-TEX INFINIUM™ WINDSTOPPER® X-Lite, which is wind-resistent, elasticated and breathable.
Full kit: personalise your protective wear, undergarments and accessories
Besides jerseys and shorts, you can also personalise protective items against the cold or the rain, like the Pro Fit jacket or the Pro Light Wind waistcoat. The Servizio Corse collection also boasts undergarments that you can personalise however you want, along with accessories such as socks, leg-warmers or hats, so that your team stands out from the crowd.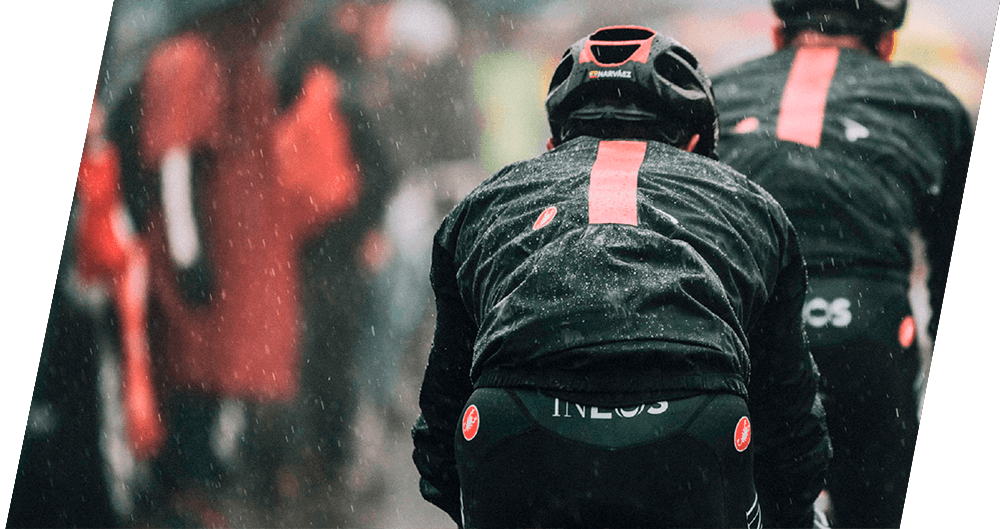 PERSONALISED TRIATHLON EQUIPMENT
The Servizio Corse Triathlon gear has the same clothing that the most recognised professional triathletes use like Marcel Zamora or world Ironman champions Mirinda Carfrae and Frederik Van Lierde. Personalise your kit with items that give you the best performance and full freedom of movement and breathability when running, swimming or cycling.
PERSONALISED CYCLING CLOTHING
Castelli Servizio Corse Projects
We resolve any doubts you may have about the Castelli Servizio Corse personalised clothing service
How long does production take?
The standard production time is 9 weeks from the moment that the order is confirmed and the project is approved by the factory.
What is the minimum order amount?
The minimum amount for a personalised clothing order is 10 units per style. This amount may vary for some accessories. For more information, download our order form or get in contact with us via the form on this page.
How can I be sure that I've chosen the right size?
If you're unsure about which size to choose, you can request a sample that we will send to the address you give us. You can also check out our Castelli Servizio Corse size guide to gain a better understanding about the measurements for each product.
Can I personalise specific items for women?
Sure! The Castelli Servizio Corse collection includes items for men and women. Check out our catalogue to see all the items we have in more detail.
Can I return personalised items?
Due to them being personalised items that we do not have in stock (they are produced on order after your express confirmation via email), we are unable to accept returns or exchanges on these products, unless the good are faulty.
How should I take care of my personalised cycling clothing?
Each item has care instructions. Ensure that you wash each item in cold water and chlorine-free detergent, allowing it to DRIP DRY. For more information, take a look at Natalia Fischer's tips.
Can personalised items be repaired?
They can be repaired provided that that they are still under guarantee. You need to send a photo showing the issue to garantias@cdc-sport.com and our quality department will study your case. If it is a factory fault, they will proceed to repair or remake your item at no additional cost.
Are the personalised items the same ones worn by professional cyclists?
Yes, the majority of the styles from our personalised range are the result of years of testing and development with our professional cyclists. We make clothing items to satisfy cyclists' needs at all levels.
What type of fit do the Castelli personalised jerseys and shorts have?
All our personalised items are designed for maximum performance and comfort while you're on the bike. We use very technical fabrics with high compression levels that make our items as adjustable as possible.
What is the process for designing a cycling jersey like?
We have a tram of designers that will help you to bring your project to life. From an initial idea and set colours and logos, they will capture the design for each item in 3D. This way you will able to see a fully realistic end result.
Are the limits on the colour or the design?
We can design your kit with almost any Pantone Colour (PMS), and there are not restrictions on the amount of colours that you can choose. If you need a colour that is not on the Pantone chart, we can make it using a sample. With regard to logos, we only accept vectorial formats.
How much does the design service cost?
Our factory assembly and graphic design service is free for orders over €4000; if you intend to spend less than that, it will be €200 per project.
DO YOU NEED MORE INFORMATION?
Get in contact with the Castelli Servizio Corse personalised clothing service via the form or by calling us at +34 963 134 559