SEA OTTER EUROPE 2019
628

Views
Posted on:
Mon, 27 May 2019
Sea Otter Europe attracts passionate people, the main brands of the sector and some of the best athletes of the moment. All this in a weekend full of activities and competitions, from May 31 to June 2, 2019.
In its third year of life the Sea Otter Europe Costa Brava Girona Bike Show has managed to make its program of competitions and MTB events become the most intense, highest quality and most varied in the world. It is expected the participation of more than 6,000 cyclists of different modalities and about 50,000 spectators.
An unique sports event that CDC SPORT doesn't want to miss!
As usual, from CDC SPORT we will be present in Sea Otter Europe with our brands Alpinestars, Castelli, Chaoyang and Full Gas. You can find us at booth number A11.
Admission to the festival is free. Come and experience one of the most important cycling events of the year with us and our ambassadors. We will have the visit of Claudia Galicia, Carlos Coloma with the BH Temple Cafes UCC, Antonio Ortiz and Oliver Avilés, as well as different activities. There are no excuses to get lost Sea Otter Europe 2019!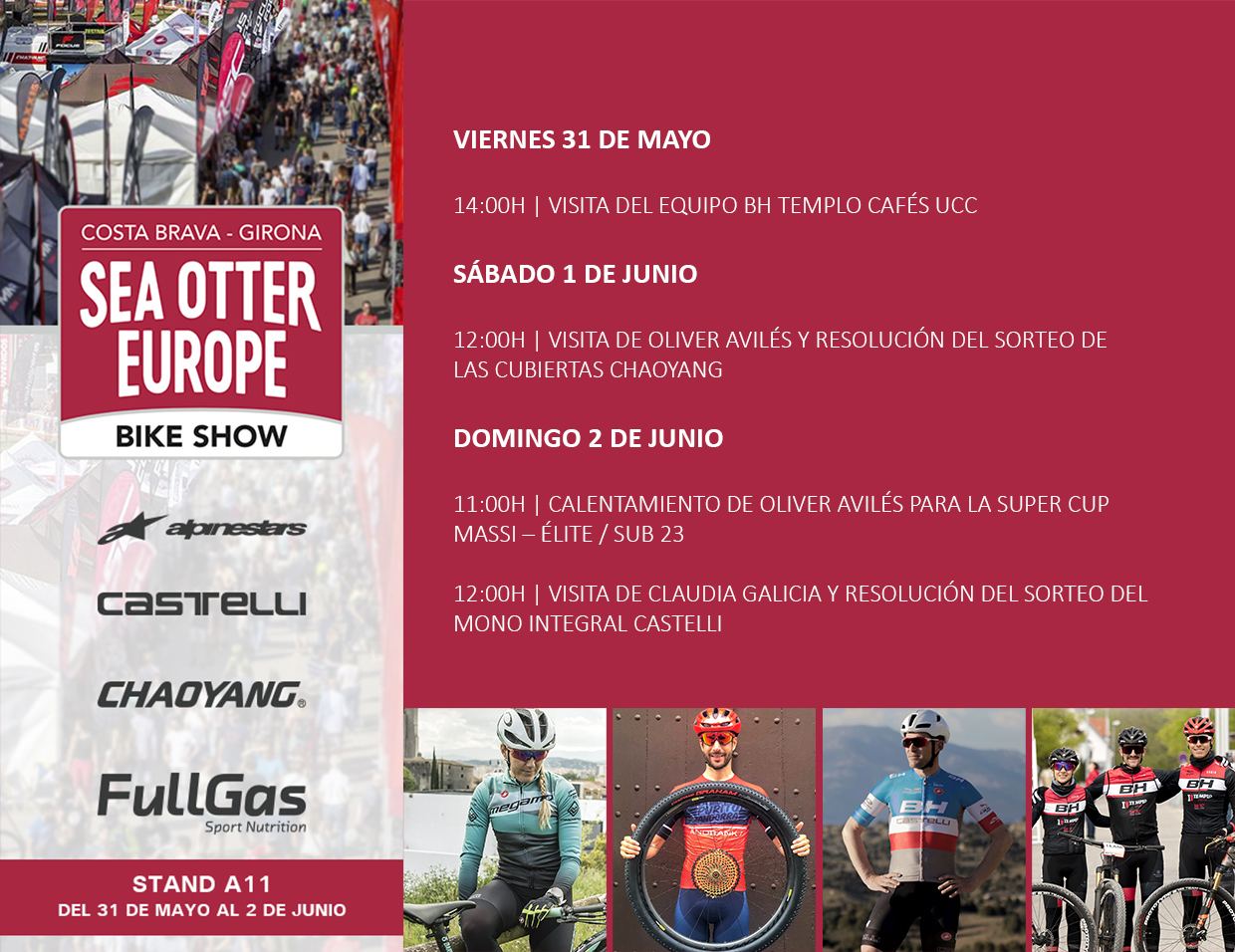 PARTICIPATE IN OUR GIVEAWAYS SEA OTTER 2019
Run to our Instagram profile @cdcsport, we have two active giveaways!
You can participate in Claudia Galicia and Oliver Avilés giveaways:
In the profile of @cdcsport Instagram will be active from 05/27/2019 until 01/06/2019 the giveaway of an integral jumpsuit Body Paint 3.0 (size S) of Castelli with the customized design of the team Megamo Factory in which it runs Claudia Galicia In addition, it is signed by herself. The resolution of the giveaway will be at the Castelli stand, A11, by Claudia Galicia. In addition, Claudia will be signing postcards for anyone who wants a souvenir from the runner.
If your thing is to compete like Oliver Avilés, some Chaoyang covers can be yours and for the friend that you choose. Participate in the @cdcsport Instagram profile in this raffle for Zippering, Graham, cap and Chaoyang t-shirts. The giveaway will be active until 05/31/2019. The resolution of the raffle will be at the Chaoyang stand, A11. 
Good luck!
Product added to wishlist