MagicShine light kit for short routes: Allty Mini front light bike + SEEME 20 tail light
334

Views
Posted on:
Wed, 07 Aug 2019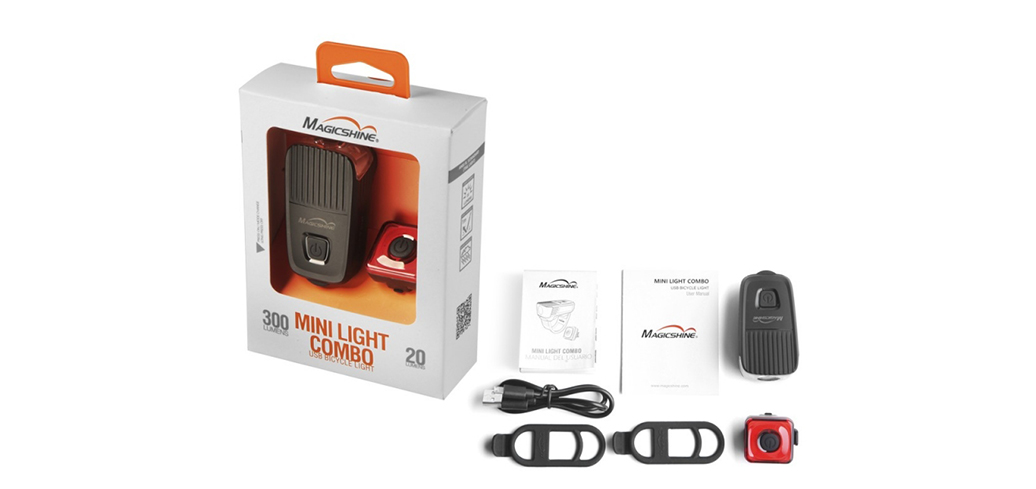 Allty Mini front light bike
This small bike light is designed for urban cyclists and commuters.

Single CREE XP-G2 LED provides 300 lumens of max output in 2 brightness and 1 flash modes. Diffused side lighting offers some peripheral visibility among traffic. Battery capacity indicator shows red instead of green when the remaining power dips below 30%. Conveniently USB rechargeable in 1.5 hours, while plugged in, the indicator light shows red intermittently until fully charged. The light body is about 2.7 inches in length, weighing only 64g, less than 2 ounces. This commuter bike light is easily removable from your handlebar and pocketed after each ride. Fine workmanship and materials make the Allty Mini IPX5 waterproof and able to operate under any kind of weather with peak performance.
Large silicone based contact area and default o-ring strap provide solid hold and stability on this small bike light. Mounting onto handlebar sized 22-35mm should be no issue. Please note, unlike Allty 300/500, this version of Allty does not use Gamin base mount.
SEEME 20 tail light
High powered COB red LED light source producing a max output of 20 lumens, capable of 180 degrees of visibility. One constant and 2 flash modes in 3 different brightness settings. Micro USB plug under its waterproof silicone port cover allows the bike taillight to be charged almost anywhere. Built in Lithium battery provides one and a half hour runtime on brightest constant mode, and 3 to 4 hours of continuous use on either of the flash modes on brightest.

The built in mounting base for the Seemee 20 rear bike light has a degree of slant so when installed, the lumens point straight backwards, securely held in place with silicone o-ring, the tail light is easily mounted and dismounted for each ride. Power button is big and built to the center of the unit, easily accessible with gloves.
Product added to wishlist